A Zombie Elephant!

Yes, you have heard me go on about it, threaten it, promise it, but I finally did it. Two days of converting and painting while at work and it came out better than I could have imagined. This was a big project and though it used the same techniques I had figured out on the pigs and dogs, the size of the model really meant I had to do some serious deconstruction on the miniatures before I could get to the rebuild.

For this model, I really had to be a bit more specific about the gore effects. The pigs and dogs were small and I could cover up accidents and failed bits with a little creative paint, but with the elephant, affectionately named "Ztampey" by my buddies, the gore had to look like something specific.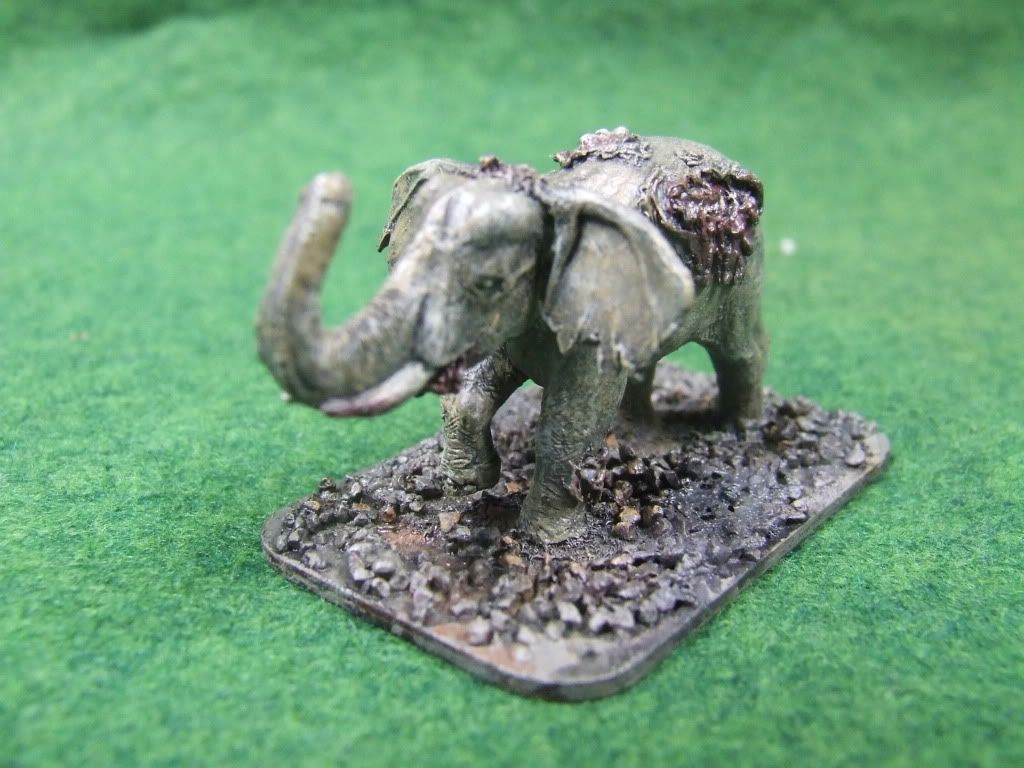 One of the first things I considered is the size of this particular zombie and how that total bulk would decay in ways that smaller animals do not. For this I drew on my childhood as a farm boy where I saw too many dead animals, many of them killed by other animals. I also looked at pictures of hunting trips, even beached whales and such that had been picked at. The idea was to get a good idea of what a large decaying animal would look like.

Because of this, the holes and gouges and Ztampey are much more ragged and tattered than on the pigs and dogs. The layers of skin, muscle and bulky flesh draping around the wounds. Some other details used to add flare to the model were to place a few bite holes on the legs, stripping the flesh from one side of the face to create a skull eye effect, and dripping gore from the mouth of the beast which demonstrates the perversion of nature in this vegetarian creature now gnawing on people. I am not sure if it shows all that well in the picture, but the remaining eye on the elephant is nice and milky.

So, there you have it, a zombie elephant. This model was fun and inspiring and I may have to do other zombie beasts later. I have a cookie idea for a zombie outbreak game that takes place in a zoo.

-Eli