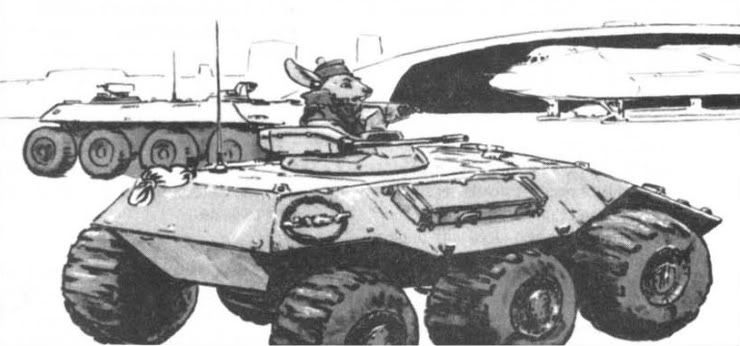 The tech level in Albedo is pretty advanced, despite the very familiar look of it. Much of the technology is automated to some degree and many systems in the universe utilize sophisticated interfaces and intuitive technologies. The worlds in the pages of Erma Felna EDF are highly computerized, surveyed, and secure. Cameras, sensors, and monitors of all sorts are everywhere, making for a controlled society. This same level of technology spills over into the vehicles in the setting.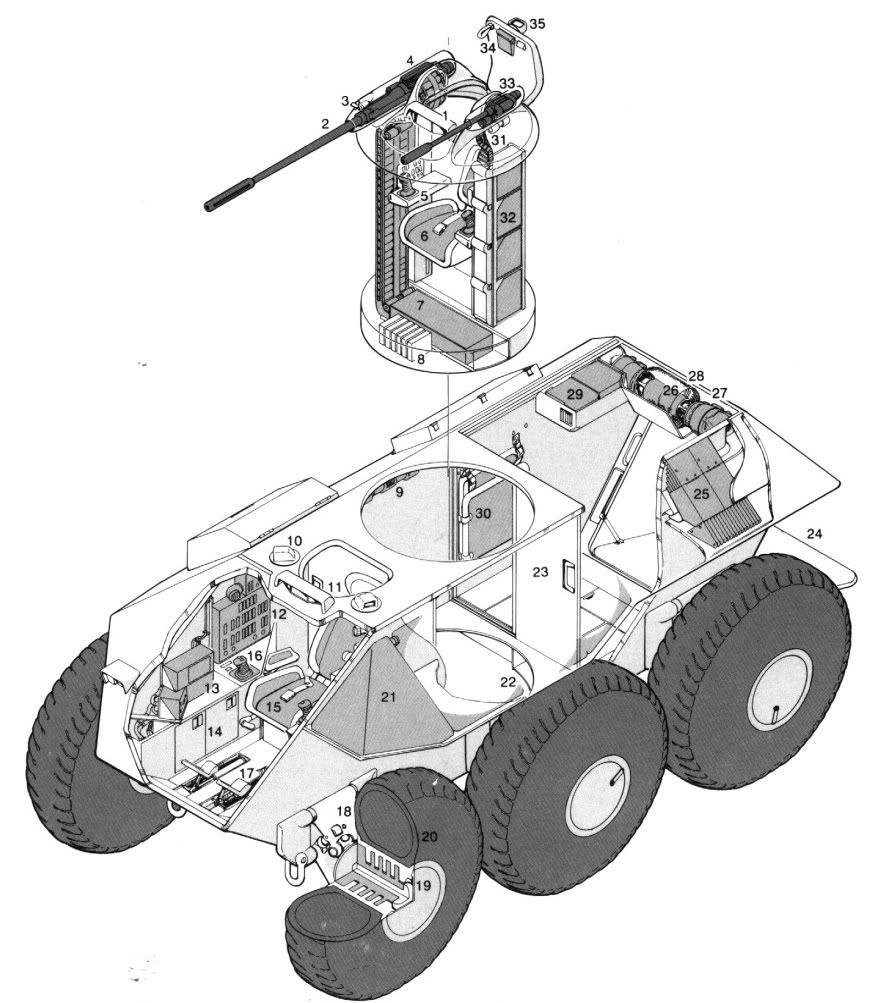 The ILR 6-wheel Scout Car in the cut-away diagram here is from one of the Albedo RPG books. It shows how the vehicle has been made small and compact, easily transported from world to world and reliant on a minimal number of crew.
The vehicle is powered by a hydrogen combustion turbine. This is backed up by thermoelectric converters that convert engine heat into electric power and help dampen the heat signature of the vehicle. The vehicle is driven on electric hub motor/breaks in each of it's six wheels, each wheel being independently powered. These features make the vehicle quiet and very efficient.
For protection, the vehicle is covered monomolecular armor that is incredibly strong due to it's layering of materials. the RPG resources state that vehicles in Albedo tend to run small and polarize along anti-vehicle and anti-infantry roles because of this armor which makes most vehicles immune to all but other vehicle weapons.
Control and crew interface systems are really cool with both driver and gunner/commander having multiple foot pedals and side stick controls that can be selected for various control functions. Both driver and gunner/commander can operate the vehicle on their own, each having full control over driving and gunnery. Each crewman is provided with full periscope sensors with a suite of IR, low-lite and even thermograph optics.
The vehicles has passenger space for four, allowing it to carry a scout team, or as seen in some of the comics assault teams. Internal blast doors and fragmentation screens protect those inside. The turret is very streamlined and features both a 10mm caseless MG and a 24mm caseless autocannon both electrically fired automatically fed.
I think the ILR scout car shows what makes the vehicles of Albedo so fun and interesting. Steve Gallacci definitely put his time into these vehicles both in making them aesthetically pleasing and technically believable.