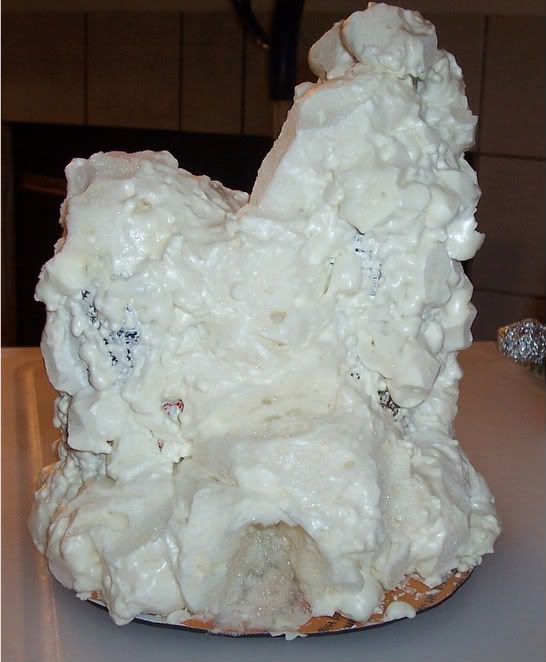 For some time now, I have been wanting to try a project using expanding foam, but never really seemed to get around to it. I finally went out the other day and bought some cans of expanding foam insulation filler. There are three stages but I only picked up the heavy and light expanding kind figuring I'd use one for bulkier projects. Never having used the stuff before, I thought I knew what I was doing.

WRONG!
The original idea was to do something akin to a giant termite mound - something usable for alien bug people or giant insects. I cut out a oblong base out of some flexible plastic I had, figuring this flexibility would allow me to counter any warping caused by the foam as I didn't have any hard board or anything around. I glued a plastic bottle and a soda can to the base to provide a basic structure and then went to spraying.

My first mistake was under-estimating how much the "light" expansion foam was going to expand. Think I knew how much it was going to expand, I had put on a couple of layers of the stuff and ended up with a BIG mess. The foam expanding and bulged in places and seriously warped the base I had put it on and made the whole thing look like a prop for a giant ice cream sundae. It looked like a flop.

I've never been one to waste good hobby materials though and I sat on the idea for a day and finally came up with an idea to see if I could shave down the foam and make some sort of rocky outcropping or something. Cutting down most of the rounded parts and trying to give it more of a rocky look, I started to see that this was indeed doable.


As it was going to be used as gaming terrain, I wanted to make sure it had some playable surface on it. I cut away chunks of the foam, saving them for possible use later (the stuff's not cheap). I flattened out part of the top of the rock and made sure there was a place to stand about halfway up one side. Deciding it needed more gaming options and still wanting to make it some sort of monster "lair", I carved a cave entrance into it. Now it could be used for giant insects, orcs, morlocks, cavemen, prehistoric beasts, whatever.

Once I had it cut down and shaped to my satisfaction, I noticed a few places that seemed to bare of surface details. This is where the scraps came in and I glued a few of them to the bare patches and shaped those that needed it.

So, now I have this big, ugly foam rock and I guess the next step is to coat it with something and then get to painting it. Maybe I'll add a few shrubs and scrub to it to give it that aged look. We'll see.


-Eli