So, I have started collecting and repainting plastic toy dinos again. The first two new ones I picked up were a couple of dollar store finds - a styracosaurus and a stegosaurus. Neither of them is the most modern interpretation of these wonderful animals and they are definitely big for use with 28mm figures, but then again everything in Pulp is bigger than life. The original paint jobs and some of the details of these two dinos left something to be desired. I was pretty happy with the details on the styracosaurus, so I decided to start with that one.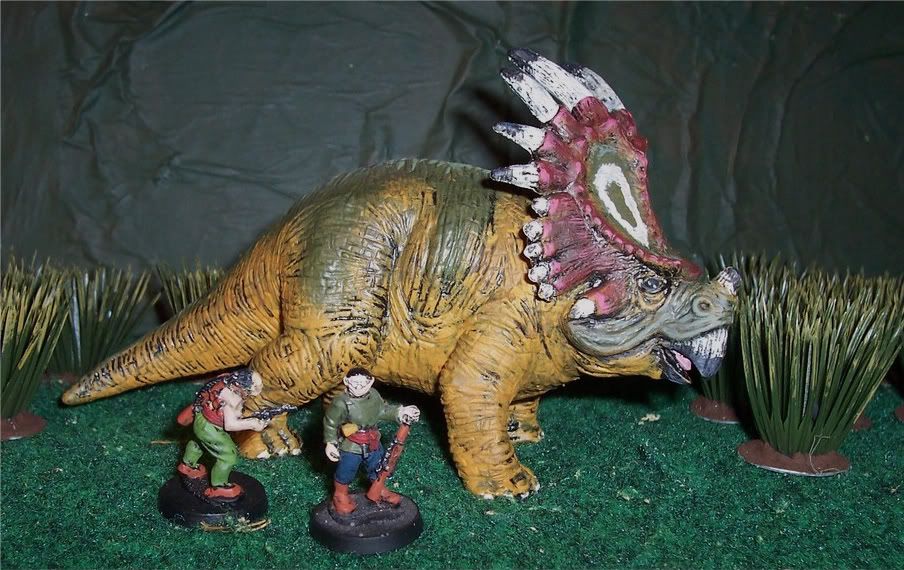 The first thing to do was to get rid of the horrible rosy pink color they had painted the whole thing (I wish I had taken pictures of the thing). I found that painting this plastic was a bit weird and it took a few days for the black base paint to stop being tacky to the touch. Even still it didn't hold the paint well. Anyhow I wanted to do the thing up in some earthy tones with a bit of color on the frill going with the assumption that such frills were used for mating/threat display as much as defense.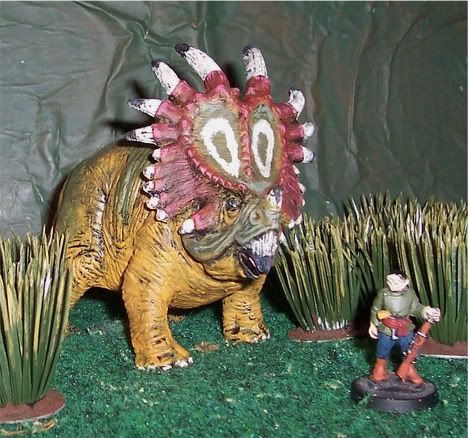 The body was done in a base coat of a yellow ochre type color with a very earthy, almost olive green brushed over its back and along the hind quarters. This was black-washed and I attempted to highlight it, but the paint didn't want to take very well so my success was limited.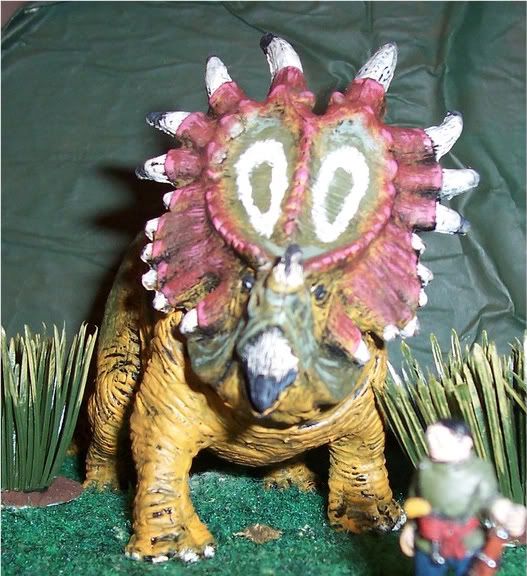 The head frill received the most attention. Taking some inspiration from the original red color they had it painted, I decided to do the outer areas of the crest in a bloody red. I highlighted this to add some depth. The interior space of the frill was done in the same green as the body markings. I wanted the dino's frill to really pop and remembered seeing some interpretations having eyes spots like you see on some butterflies and some reptiles. I painted white oval rings onto the frill which gave the dino a really wide-eyed display.
The rest of the detailing was pretty straight forward. Bone coloring for the frill and hose horns. The nails on the feet and the beak were done the same way. I am not overly happy with the end result and have held off sealing it yet, hoping I can find some way to add some depth to the beast.
So, this is the first of what I hope to be a good long series of dinos both repainted and higher quality prepainted alike. The goal is to be able to start on a Lost World project after Game Storm in March.