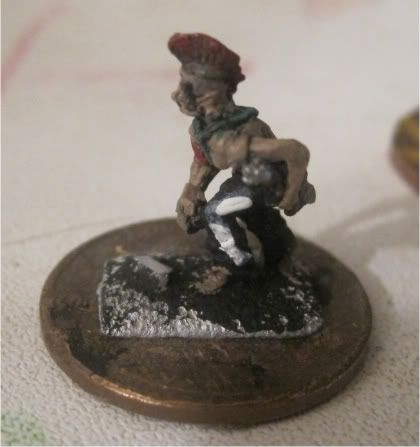 A bit back, while discussing possible minis for post-apocalyptic settings, I mentioned that I had some 15mm Northeastern American Indians from Irregular that were sitting around collecting dust. It occured to me that there really wasn't much of a difference between these guys and the archetypical mohawked thug from movies like "Road Warrior" and "Doomsday".
It didn't take much, actually. I clipped off a lot of their feathers to make them look less obviously Native American though there is nothing saying that PA savages wouldn't adorn themselves with feathers. I also did a clip job on the hair in some cases - cutting off topknots and cutting into mohawks to make them look spikier or less kept. The weapons I kept the same except for the one without the shield, his pose was sneaky and I decided to go for the character look with him (note his costume shop skeleton pants).

For shields I wanted to give them something obviously post-apocalyptic, so I cut a few traffic signs from card and cut on of the cast-on shields down to something more basic. The squiggly one looks better from a distance and less like giberish.

I think they turned out nicely and convey a savage tribal vision of future humans. The pictures are not of finished figs by the way, but I was testing the new camera and figured I'd show some WIP of the almost finished figs. Still have some detailing and washes to do.

Hope you enjoyed,

-Eli