Hey all,
This last weekend I had a chance to do something I haven't done in ages - camping. The last time I went tent camping must have been when I was a kid. I've gone cabin camping and yurt camping since then, but this last weekend was good ol' fashioned tent camping.
This was the first year my family and I were able to join in on my buddy's annual family camp out. Not only was it wonderful to be able to go but it really is a joy to know that I have such good and solid friends that I would be considered family enough to invite along.
Boy do they know how to camp!
The group was some 20+ people - all members of the extended family. Half the group was kids ranging from preschoolers to teens which made keeping the kiddos active and occupied a breeze. We had a full kitchen set-up with gas griddle and grills with the back of a Pathfinder serving as chuck wagon. The camp ground was quite nice as well with pre-prepaired sandbox style tent pads, bear-proof garbage cans, and a nice permanent outhouse kept nice and clean by the rangers. There was so much food we actually ended up with leftovers, if you can believe that.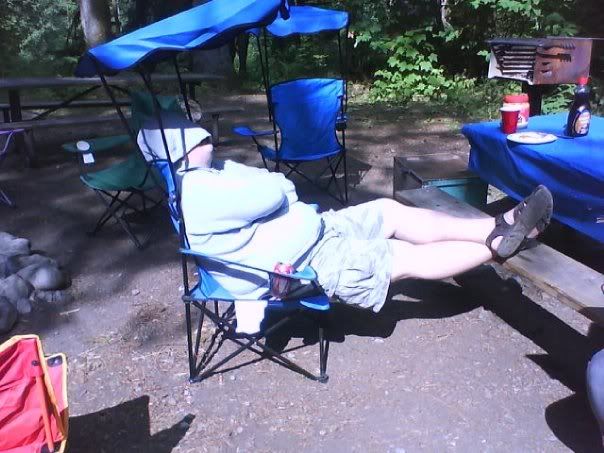 Napping in nature is good.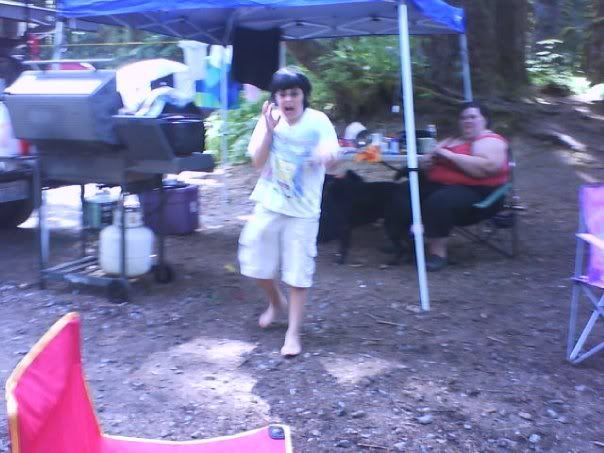 Anna doing her Bigfoot impression, complete with blurry photo.
So we weren't exactly roughing it.
Most of our time was spent playing in the river and the woods. The river was running quite low this year and was incredibly icy being mostly mountain melt-off so for me swimming was right out but the kids dug it. We had huge games of hide and seek and we played Werewolves of Miller's Hollow (a fun party card game) by firelight.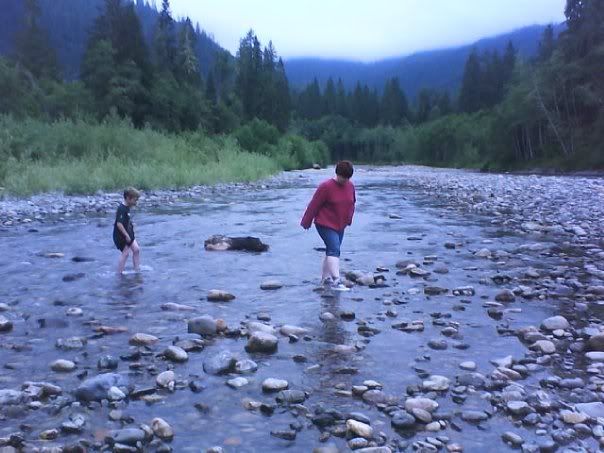 Even with the low water level the area was beautiful.
This was my girls' first ever outdoors trip in the real outdoors and they loved it, so much so that when we had to head home after two night (I had to work Sunday), we left my oldest up with the rest of the friends/family until Monday. She went through a bit of separation anxiety but we haven't heard anything since we left her up there. I think she was just a bit torn by her desire to stay and keep having fun and being away from us that long.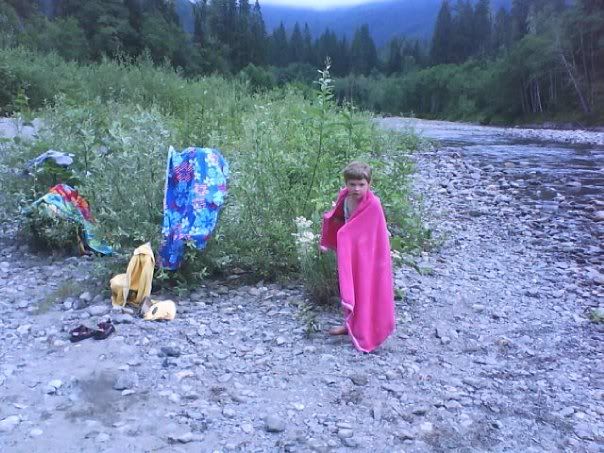 Nimue looking menacing in her pink towel.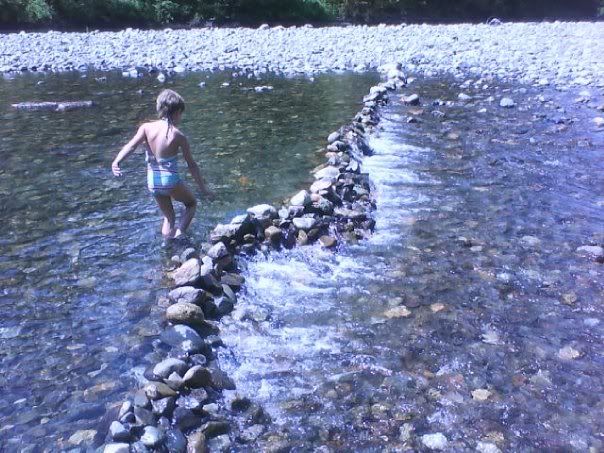 The impressive dam built while I napped.
The pinnacle of my time out in the wild would have to be our ill-planned hike. We drove to a local trail head after lunch on day two and hiked our way four miles up mountain to take a look at a piece of local history - the mining town of Monte Cristo. The hike was supposed to be four miles round trips but we were misinformed and it ended up being eight miles round. This wouldn't have been a huge issue except that I am not a hiker, we hadn't brought enough water, and it started to thunder and rain on the way back down.
Much of the trail had been washed out by rains in years prior. Many times we found ourselves having to cross huge, rather impressive swaths of ground strewn with rocks that has been driven down through the trees by the resulting slides. At one point the road had been washed out so much that the original iron rails from the train line that followed the same path were exposed six feet down. At the river crossing, the bridge had been washed out and a temporary route across a falling tree had been marked as the "official" route by the rangers. On the way back, I was in no shape to teeter across this log and ended up fording the river waste deep and helping a friend of mine across.
The sad part is that none of us remembered to bring even a camera phone along on the hike so every lovely site, amazing vista and impressive showing of nature's power was left to memory alone. At one point I looked up and realized that there was barely any mountain left above us. It was quite breath-taking.
I have included a few of the pictures taken in and around camp and at the river. Excuse the blurry pics, children are difficult to focus sometimes.
Take care,
-Eli
Editor's Note - The area we were camping in is the Mount Baker National Forest area up past Granite Falls, WA. It's an excellent, not too far out camping area that has nicely appointed rental camp sites as well as plenty of free areas to camp. There are plenty of trail heads and some good hikes in that area, including some with some nice local history along the way.