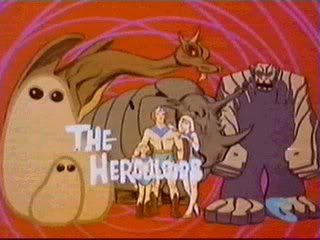 The Herculoids.
Nuff Said.
I remember watching these guys as a kid. Along with Thundar, Space Ghost, Blackstar and Flash Gordon, they were among my favorite cartoons. Throughout my life I have constantly found myself returning to them - toys, monster designs, even finding epidoes of them on YouTube. Now, I have this crazy idea to try and build them in 28mm.
All of them seem pretty straight forward and should be easily converted from various figs. Zock, Igoo and Tantor all resemble various fantastic or prehistoric creatures. The human family are all just barbarians and there is no shortage of those in 28mm. And come on, Gleep and Gloop, they are pretty much amorphous blobs.
Heheh....like I need a new project.
-Eli