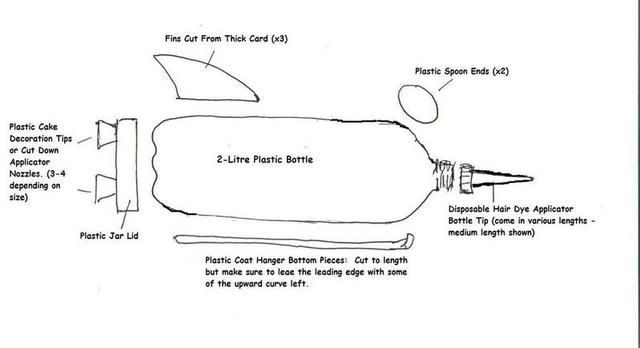 If you have ever found yourself wanting to work on a project and found yourself strapped for funds or just wanting to do something fun, you'd be surprised at what you have lurking in your home.
The image above is of a recent challenge I put to myself. The challenge was to devise a pulp-styled rocket ship that was made entirely of things I had in the house. So I scavenged through my cabinets, my lundry room, bathrooms and even my recycling and found everything in the crudely drawn diagram above. Sure the design is a bit crude and it does need a bit of refinment, but, with everything in my home I could easily, with a little paint, get this puppy on the table.
A few quick notes on things that have come into evidence since I started -
A single 2-litre bottle isn't long enough to make a good rocket. Either down-size your rocket to a 1-litre or stretch your 2-litre by adding a part of another bottle.

Plastic spoons may not fit so well, so you may want to try using an alternate method of assembling the front view ports.

Make sure that you let your kids know you only need them to save a couple of bottle for your hobby, lest you find your painting table covered by every single bottle they could scrounge up.