I know I had mentioned posting some stuff from back before the blog, so thought I'd lead off with this one. A while back I had started working on a 15mm scale homebrew sci-fi setting placed in a pretty gritty universe of politics and nation on nation conflict. This was to be a setting that wasn't too far removed, politically and socially speaking, from our own world. I had kicked around a number of ideas, and while I was planning my faction, started working on a few models to get thing rolling. The first one I came up with was this thing.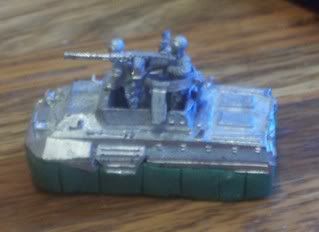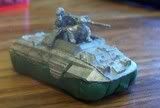 Though the modelling is a bit crude (never claimed to be any kind f grand master) it is effective and nicely converts an WW2 American M20 Scout Car into a hovercraft skimmer with just a little green stuff. I managed to get about three of these done, crewing them with Peter Pig 15mm Israeli Vehicle Crew.
We have yet to play in this setting, though I do continue to tinker with it. If anything, it makes for a great side project to work at every once in a while.