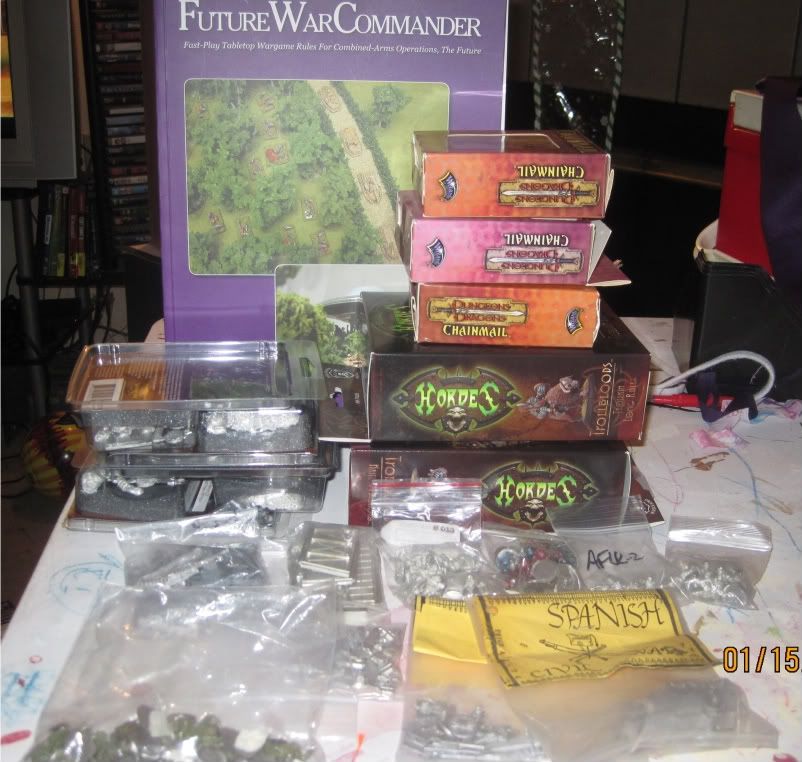 Remember that sweet, perhaps sappy movie "Pay it Forward"? If you didn't see it, the movie was about the power that simple acts of kindness and generosity can have on individuals and how collectively those individual changes can create a larger change. This post is not intended to be that far-reaching but it has its roots in just that sort of sentiment. So, what's with the picture in this post?
Everything pictured here is something that was given to me for no other reason other than somebody had it and thought I might be able to use it. They were simple gifts, not for Christmas or birthday but simply because they wanted to. I received more stuff in the way of Christmas gifts and that was a wonderful surprise as well (these are not pictured above). But I am getting away from the point here.

As gamers we have a tendency to build up massive hordes, especially miniatures gamers. It is in our nature to collect, gather, and hold on to things whether or not we have an immediate use for them or not. And because we hold onto these, sometimes they never get used again and pass into obscurity. What if we used these forgotten or unwanted items to help others in our hobby?

Some of you may already do this and for that you are to be commended. I have rarely done this, myself and am now thinking otherwise. For me, in the past, unwanted/needed items were destined for resell to private individuals or on E-Bay. There is nothing wrong with this and in some cases I have traded items across the board to other gamers. But the mode for me has always been something for something. None of the stuff in the picture above was given to me with the expectation of something in return. The vast majority of it came from two people each who found themselves with gaming stuff they had no home for. They were given to me as somebody who could use them.

Two of the items in the picture are a very strange curiosity that I have mentioned before. I found a few packs of 15mm Spanish Civil War minis on a table at a convention last year that was marked simply "Take What You Want". It was piled with magazines, rules sets, miniatures, card packs, and dice. Unattended and off to the side it could be described as something of conventioneers Island of Misfit Toys, though we referred to it as the "Swag Table". The concept of a swag table was a bit of an inspiration, I thought. What if at every convention there was a place, an innocuous little table off to the side where people could discard the things they did not want but felt others might use?

I intend to keep this mind in this New Year and shall examine my collection when I come across the needs of another gamer and perhaps this may appeal to others of you out there.