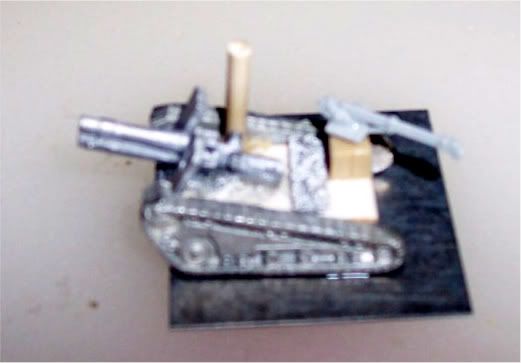 Nothing much to report just yet, but I had an urge to tinker with some more scratchbuilt Land Ironclads and this is what I came up with. It's essentially a really big gun, like a cut-down Verne cannon that rolls along on it's own tracks. I have been tinkering with this concept since I used the carriages for these guns for one of my other LI designs.
I'll post more on it later, but hope the crappy snapshot will tide you over.
BTW, the little dots in the middle are some 2mm skirmishing infantry that will do a good job of representing teams of gunners waiting for the weapon to need reloading. The minis are based on the standard 2mm minis base and cannot be removed, but that shouldn't pose too great a problem as I can stform or something. they were standing on a platform or something.
Anyhow, hope you enjoy this sneak peak.
Take care,
-Eli