Wow, this feels way too much like one of those essays you had to do in grammar school.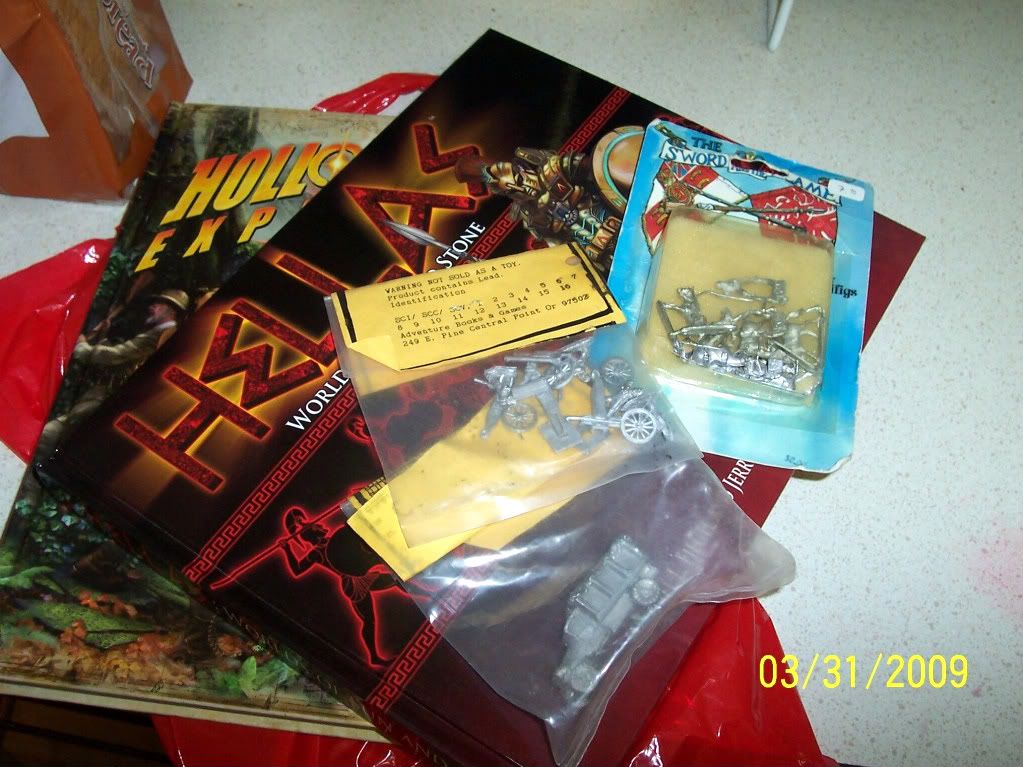 For those of you who don't know it, Game Storm is a smallish convention based in the Portland/Vancouver area. I'd like to give either Oregon or Washington claim to it, but the convention skips across the river depending on which city will give it the better deal. Usually it's in Vancouver, though, as it was this year.
This was only my second year attending and, as I did last year, I road-tripped down with my gaming group and made a weekend of it. The convention has its roots as a convention for board and card gamers but has groan to include all aspects of gaming - RPGs, miniatures, LARP and video games. They have hosted RPGA events and the usual rounds of tournaments presented by such folks as Privateer Press and Games Workshop (usually sanctioned events and not actual in-house corporate events).
Well, besides playing a crap load of board games and card games with my friends and others. We, as a gaming group, hosted our 2nd Annual Twilight Imperium 3rd Edition game. This is a big game with the maximum of eight players played across a span of about 6-7 hours straight. It's the sort of thing that draws a lot of attention from the other board game geeks and even got us filmed for the Con video this year. This year was a bit slower going because we had a couple of brand new players to the game, But last year we actually made it to an amazing climactic end to the game. I did not get to do any other sort of gaming this year.

What I did get to do was meet industry people and bought a couple of nice RPGs. First and foremost, I had a chance to meet a couple of guys from Exile Games Studio, the company that makes the truly awesome RPG "Hollow Earth Expedition" also known as HEX. Jeff Combos (Concept, Lead Designer, Co-Writer, President) and M. Sechin Tower (Contributor/Editor) were both incredibly gracious when I stopped by their booth. Top folks these two.
Both these guys were more than happy to let me bend their ear about their wonderful game and even delved into their design angles and views on what makes for good gaming and all. If you are looking for a pulpy RPG with some real spirit and style as well as a great system, I would really recommend "Hollow Earth Expedition" from Exile Games Studio. Never mind this a local company from the Seattle area it's just that good of a game.
The other props have to go to a guy and game that were previously unknown to me, but that both made a huge impression on me and my buddies (we bought three copies of their game Helas at $45.95 per). Hats go off to Jerry D. Grayson and his partner in crime (sorry to him but I cannot recall his name). These two guys have produced a stunning book in "Helas", their game of Greek myth in a Space Opera setting. The layout of the book is lovely (thought the landscape format did throw us). Not only did he talk the talk, but Jerry invited me and two of my fellows straight into a demo game, running us through an action sequence that really highlighted some of the games stronger points. Thank you Jerry and company for a memorable moment.


On top of all this, they had something new this year that I would love to see continue. It never had an official name, or even an announcement, but we came to call it the "Swag Table". The Swag table was this little out of the way table that seemed to accumulate a fair amount of gaming stuff labeled as "Free", "Take Me", "Give Away" and such. Among the goodies were many issues of Dragon magazine from the days or yesteryear, which I passed up, having had many of them already. There were several starter decks of the "Dixie" card game. Also on the table was an unopened set of the old Armory blank counters, something I have been wanting to pick up but could never bring myself to buy.
The bit I found on the Swag Table were several blisters of 15mm minis from various eras that, though they did not fit into any project specifically, could easily be used as conversion materials.
The three packs I picked up were a pack of two SCW field gun (I intend to use for more Land Ironclads conversions), a 15mm SCW truck with what looks to be a sandbagged panel-sided bed (Not sure what to do with this one), and a pack of Spahis Command from Minifigs. These last figs actually may fit into one of my projects pretty well as I have been looking for some Arab-looking minis to convert to alien riders for some of my 15mm bits bugs.
So, what did I take away from the con, other than some goodies and great times? I have decided that I want to give something back and try to inprove the miniatures showing atthe convention and as such have cobbled a few possible games to host for next year, one of which is a 6mm Viking Invasion Demonstration/Participation game as well as a possible 15mm sci-fi game. I have also considered trying to see if I can drum up some of the West Coat GZG gamers from some games as well. All in all, I think that I just want to try my hand at being part of the show instead of the audience.
Thanks for reading. I know it was a long one, but it was a lot to tell.