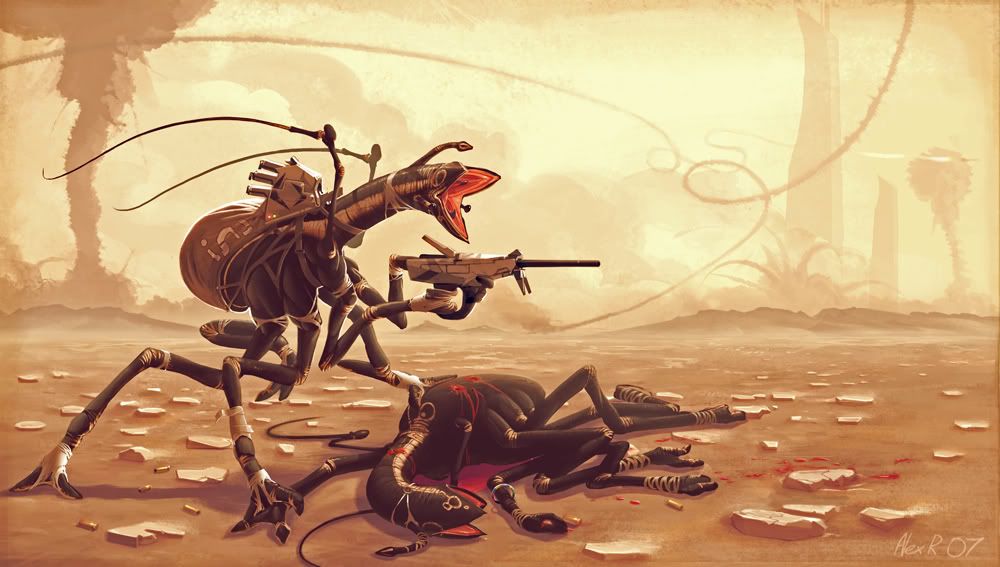 So, as I fiddle with the 15mm sci-fi project and try to cool my jets on the approach to game Storm, I found myself thinking about the aliens that make it into miniatures and I realized that for the most part, they all seem to be a lot of the same ol' same ol'. Now, this is to be expected, to a degree, as miniature companies are going to produce what sells. On the other hand, however, if you never build it, how do you know if they will come or not?
To my limited recollection, we have had a countless slew of aliens wannabes, anthropomorphized animals, mythological races in space (eldar, squats, space orks, etc), and near humans up to the gills.
Jon at GZG has given us a couple of good ones with the Phalons and the new Ixx. These fall, along with the Spugs from Spriggan, into what I call "Bugs with Guns". Other than these, it's all pretty much more of the same. If I've overlooked something, it's either because it didn't register or I haven't seen it.
I guess the question comes into my head as "Why don't we see more really alien aliens?"
Some of the most popular sci-fi games RPG and tactical have featured truly alien species, but they seem to always fall shy of the sculpting table. Where are out aliens with odd-numbered limbs or geometric central masses? Where are out stilty aliens? What happened to our aliens that barely register as sentient because they are just that odd?
What's funny is that even some of the obvious ones can't even seem to fly. Every gamer fanboy (no insult intended, just a description) worth his dice bag and catch phrase t-shirt (of which I have many)either does, or at one time has fancied feline aliens, or space wolfmen or busty amazonian warrior chicks, but how many of these do you see getting serious consideration in sci-fi miniatures? I have even had an on again off again crusade, myself, to get a line of hi-tech "raptoroid" dinosaur-inspired aliens into production, but even the intoxicating blend of dinosaurs and laser guns doesn't seem enough to lure producers into action.


I imagine that there are some aliens that simply defy casting, not sculpting, but production casting, but surely there has got to be some more room for innovation in sci-fi aliens miniatures. I surely hope so, because I sincerely doubt we need another bio bug menace or robotic terror horde.
-Eli


P.S. If anyone could ever bring to life anything even remotely similar to the bugger from the Alex Ries pic at the top of this post, that would just be aces in my book.