So,
Though they are not finished, I thought I would put up a sneak peak of some of the 15mm minis I am working on for my hard science fiction army. This is a project focusing around sci-fi with a more realistic feel. That's not to say they aren't fantastic, but they I am trying to keep things looking like they were at least built by men as we know them.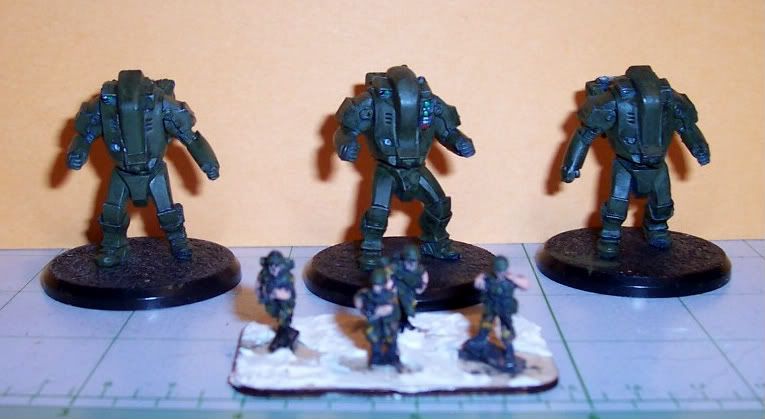 Shown above are three AT43 TacArms that I am in the process of converting to heavy combat walkers for my Manchurian Economic Combine (MEC) force. The blurry infantry in front of them are Peter Pig Israelis painted in a three color camouflage but the pic isn't focused on them, they are just shown for scale. I am still trying to decide on armaments for the combat walkers as the original ones were way too oversize to look believable.
The other projects has been these cool little light combat walker which I'm converting from Ravager Battle Suits from Wizkids' Mechwarrior game. They are just the right size to stand in for light walkers/heavy power armor. The only thing I am doing is repainting them and I did cut the ends of their Vulcan cannons down as the original muzzles were way oversize for my tastes. These are being put together for an opposition force to my MEC and will be part of my Indian army. I have twenty of them organized into a company made up of 4 platoons of four along with a command section (also four strong).
I think they look great, but then again I have always been a sucker for "realistic" looking mecha.
-Eli