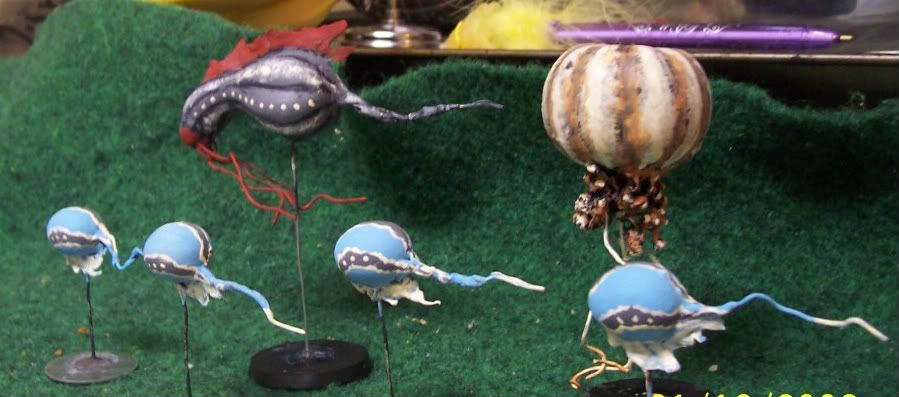 For a long time now, I have been wanting to make some aerial life forms for our Aeronef games but have never really jumped into it, until now. While collecting supplies for the construction of the nest huts for my Parrot Men, I ended up with several fake eggs that are too big to use for the Parrot Men (thought might make good 28mm dino eggs). After having initially set them aside, I later took a second look and realized that they looked like some sort of giant floating gas bag creatures.
Taking some putty and extra wire to make a trailing tendril and some fin-like flanges. I then drilled a few holes and made some quick wire flight bases. The end result is a collection of bulbous creatures with squiggly tails out the back. Unfortunately, as you can see that also bear a very unflattering resemblance to giant flying sperm. Ah well, they are still cool looking.

The larger creature pictured above was made out of a small deco squash. Using the same technique as used on the smaller creatures above, I made the trailing wire look a bit more organic, added a flange to the base. I wanted this creature to be a bit more menacing, however. If the smaller ones were analogous to porpoises then this was going to be like a giant squid.

Drilling several holes on the front of the squash, I then bent up several pieces of wires of a mostly uniform length so that they looked alive. I glued them into place inside the holes and applied a layer of putty around the area to reinforce that weak material where the holes had been drilled. Whatever the squash was made out of was very brittle once compromised and I found the holes basically tore out once I started trying to fit the tentacles. The tentacles were then arranged in a swept back manner to show the creature was in motion. I then based up my giant floating predator on a quickly made wire flight base.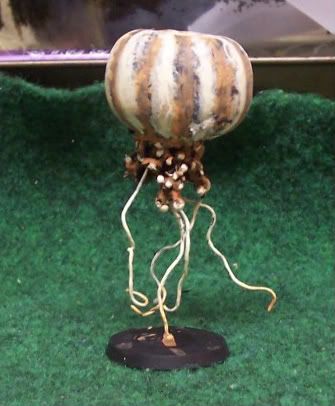 This passive floater was done using the same techniques as the others but this time I was able to integrate the wire that came attached to the deco squash into the tendril mass suspended below it. I then added sprigs of fake berries arounf the bottom of the main body. This added a nice effect, even after the spray paint melted the berries (always check to make sure what sort of material your components are made of!).

I plan to do more creatures and will post them as I get them finished but I hope you have enjoyed the first glimpse into the majestic beasts that inhabit the skies of our Aeronef campaign world of Terra Secundus.

Watch the skies,

-Eli